Apps have become such a great tool for customers and business owners all over the world. Millions of users worldwide now have become more dependent on their mobiles to perform even the smallest of tasks. There are thousands of options available for apps in the dentistry world. Although there are many apps for patients to find doctors, or to set appointments, there are many apps designed to help dentists.
Dentists are very busy taking care of their patients that any help they can get, is greatly welcomed. There are several apps that can be very useful for dentists such as:
1. DCSTORY: PATIENT EDUCATION
This app is a great tool to help explain patients some of the more difficult and technical information. With the use of high definition images, easy to understand option treatment plans and other educational information, this app helps the patient to better understand using non-technical terms.
There are over 200 dental procedures that might seem complex but are carefully and easily explained, with the use of x-ray images and various pictures. It also give the dentist the ability to comment on the images and email or print the information for the patient to view at home.
2. DENTAL EXPERT
This app teaches your patients all there is to know about oral hygiene, important information and tips. It also carefully details what some procedures entail, how certain procedures are done and helps the patient see that through the app. It is also a great source for general information, tips about oral care, what to do in case of having missing teeth or damaged teeth. Other more complex procedures are also explained such as root canals.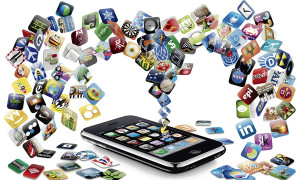 Having educated patients is very important since it can facilitate your job, they can find all the useful information in this app and it can be a great asset to you.
3. MY DENTIST
This app is great at creating a communication channel between the doctor and the patient. This app allows patients to explain their problems, send you images and diagrams through text. Once you receive their text message you can send them instruction on what to do in case of an emergency or fix an appointment with them among other things.
4. DENTAL MANAGER
With this app, you can calculate your costs and set up a treatment plan for patients, by downloading this onto your Smartphone, you can also track your patients and have their notes and contact details. Using this app's cost assessment tool and treatment planning tool, you can discuss with your patients and arrive at the best solution for an improvement in their oral health. Sharing information between co-workers is another facility offered here.
5. BOX – STORAGE MANAGEMENT
This app is a wonderful mass storage system that allows you to manage your files and share folders from any computer or mobile phone. For a dentist, this app is amazing as it can be used as a back up for all dental records and have them available to share and view in digital format and have them all together in an online platform. You can access these files on any computer or device and can be easily shared and sent to your patients if you need to, your staff also has access and it is a very easy and safe way to back up and access your files anywhere.
Make sure you check these and other apps, there are thousands available that can be very useful just test them and see which ones work best for you. If you use or have heard of any other good ones make sure to let us know on the comment section.
Tralongo can help you manage the day to day operations while you focus on retaining your current patients happy. Call us for a quick consultation on 404 537 5211 or visit us at www.tralongo.net