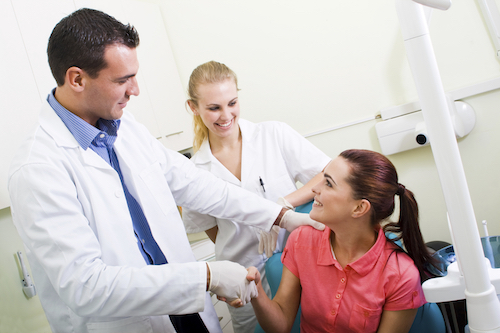 As a dental practice, you always try to provide your patients with the best care and services possible.  However, it is very difficult to set your office apart from other dental practices. There are little things you can do that will add value to your practice that take very little effort.
Think about it, as a patient, undergoing any dental treatment can be very scary. Whether it is a simple cleaning or a surgical procedure, a lot of people feel anxiety. Making your patients comfortable requires very little effort. Simple things like offering water/coffee, up-to-date magazines, or adding a massage chair in the waiting room for patients to relax prior to their treatment is a great idea. Or offering warm towels to relax afterwards actually goes a long way with showing you really care about your patients.
This really doesn't take much time at all and it is a great gesture that a lot of your patients will appreciate. After every major dental procedure, have your dentist call the patient and check how they are doing at the end of the day. We understand that during the day everyone is busy, but before you close. Having your dentist go over the day and calling all patients after a major surgery, root canal etc. will be greatly appreciated.  These type of aftercare really resonates with patients as it shows you really care about them. Use it as an opportunity to check on them, offer to come in for a check up and offer your help if they need anything.
This might seem like an obvious and cliché recommendation. However, your front desk will be the first and last impression your patients have of your practice. It is not rare to walk into a dental office where staff is too busy to even greet you, and you are treated like a nuisance rather than an actual paying customer.  When answering the phone, your front desk should be helpful, welcoming and warm towards anyone that calls. The same at the office, how your front desk treats your patients will determine the image you put out to your customers.
Sometimes is the little things that count, we know some practices do not offer complimentary services such as checkups, however, they are an excellent way to get new patients through the door. You might lose revenue this way, however, the return on investment is much higher as patients will appreciate the complimentary check up and most likely will continue their treatment with you.
Another great way to get hesitant patients through the doors is by offering a meet the doctor appointment. That way, they can feel welcomed and establish that personal relationship that is very important for people when choosing their healthcare providers. During the meeting, the patient can be introduced to your practice and learn about the wonderful services you offer.
Tralongo LLC can help you manage the day to day operations while you focus on retaining your current patients happy. Call us for a quick consultation on 404 537 5211 or visit us at www.tralongo.net