We hope that the answer to this question is "VERY CLEAN" for most dental practices. But the reality is that about 40% of bad reviews come from patients that were dissatisfied with the dental practice cleanliness. It should be a given that a dental practice is clean and that proper sterilization procedures are followed,  however, that is not always the case.
Patient's health and well-being are your practice's main priorities so offering a safe, healthy and clean environment is crucial. Patients are placing their health in your hands so it is very important that you offer them a safe environment and create that trust and bond with  patients as a practice.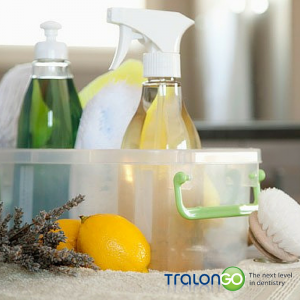 There are 5 tips that you should look at to implement in your office, if you are already following some of these pieces of advice then we want to congratulate you and let you know that you are on the right track and you are doing a great job at looking after your patients.
First of all, we want to mention the general upkeep of the practice. It is not acceptable under any circumstances to have a dirty or dusty office. Your patients are very receptive to this, and what signal are you sending if you have an unkempt office – it might deter patients from going there. They might think, "If this is the state of the waiting room, what am in for when I get on the chair?!"
Not to mention the bacteria and particles that can accumulate on your counters and shelves. Always make sure you stay on Dust Duty!
Now, when it comes to cleaning there are several guidelines and procedures that you are already aware of. OSHA and CDC guidelines are pretty straight forward and the sterilization processes should be paramount to the whole staff and dental assistants, to make sure all areas are sterilized and cleaned appropriately all procedures carefully followed.
Most practices know very well that cross contamination is an issue that needs to be addressed often. However, this issue should be a thing of the past – make sure gloves are used at all times and each room is wiped and cleaned for each patient. Using CaviCide or CaviWipes are great to wipe and disinfect all working areas and have a safe and clean environment.
Although bathrooms are separate areas and should be kept clean, sometimes, it is a cleaning company that has that responsibility. Just make sure your staff cleans handles often as well as faucets and knobs during the morning.
Finally, make sure that your front desk and the waiting/reception area are kept clean at all times. New patients will get their first impression as soon as they walk in the door and the only impression they should have of your practice is a positive one – clean, nice and safe!
Tralongo LLC can help you manage the day to day operations while you focus on retaining your current patients happy. Call us for a quick consultation on 404 537 5211 or visit us at www.tralongo.net