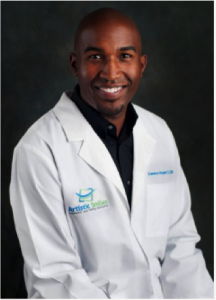 Name: Clarence C. Kegler II, DDS, PC
Number of Years as a Tralongo Partner: Two and a half
Dr. Clarence C. Kegler II is a dentist in Suwanee, Georgia, with 16 years of dentistry experience performing cleanings and prevention services, cosmetic dentistry, periodontal disease treatment, restoration and sedation dentistry.
Dr. Kegler attended North Carolina State University and the University of North Carolina, where he received his Doctorate of Dental Surgery. In 2001, Dr. Kegler moved to the Atlanta area and worked in a group family dental practice for four years. In 2005, Dr. Kegler opened Artistic Smiles in Suwanee, where he provides comprehensive cosmetic and family dentistry. With membership in the American Dental Association, the Georgia Dental Association, the Northern District Dental Society and the American Academy of Cosmetic Dentistry, Dr. Kegler was selected as a Gwinnett Chamber of Commerce Healthcare Excellence Awards finalist in 2015.
In 2014, Dr. Kegler was weighing career options when he learned about Tralongo and began considering expanding his practice with multiple offices.
What made you want to become involved with Tralongo?
I received a letter from Tralongo during a time when I was thinking about what direction to take my career in. The Tralongo model of acquiring existing dental practices in a local market to expand my footprint appealed to me a great deal. The Tralongo model fed my entrepreneurial spirit and convinced me to open other locations with their help.
What is your review of Tralongo?
I was impressed by Tralongo's office support, which allowed me to maintain a large degree of autonomy over my practice. The Tralongo team helped me streamline my practice to make it more efficient as well as put some systems in place that will allow me to transfer them over multiple practices. Management, marketing, human resources and accounting systems all run smoothly, which gives me the confidence my next practice will start off on the right foot.
Tralongo has eased my biggest concern regarding expansion, which is staffing. Typically, filling open positions is not a hard thing to do. But when the perfect environment has been created, finding the right person to fill that position is critical. Tralongo's human resources system will help with that.
What advice would you give other dentists considering Tralongo?
Definitely get in touch with Tralongo if you're not sure how to develop your practice or if you feel your career has stalled. I was thinking about switching careers before I talked with the team at Tralongo. After doing so, I felt excited about not only streamlining my practice, but also about opening more locations. Tralongo inspired me to continue providing top-notch dental services to the Atlanta area.
What's next for you?
I'm very excited about expanding my existing office and purchasing another location with the help of Tralongo.
About Tralongo, LLC
Tralongo is comprised of a team of dental, marketing, financial and business professionals. The firm partners with entrepreneurial dentists who are looking to grow their businesses by acquiring and operating multiple practices—taking professionals out of the chair and into management and ownership. Tralongo operates via a five-step process that trains partners, helps them find the right dental practices to acquire, assists in obtaining the appropriate financing, works with them during the transition from old to new ownership, and helps maintain operational support throughout to maximize profits.
Headquartered in Sunrise, Florida, Tralongo, LLC is a firm that partners with dentists throughout the United States to help them expand their practices through the acquisition of existing dental offices. With more than 90 years of combined experience in dental management, as well as dental transitions and acquisitions, the Tralongo team assists clients by finding the practices that meet their criteria, performing the due diligence, obtaining the appropriate financing and, ultimately, acquiring the office. The firm also provides clients with behind-the-scenes management support, including finance, human resources, marketing and ongoing education. For more information on Tralongo LLC, call 678-288-4712 or visit www.tralongo.net.